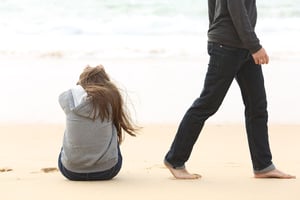 Life is not about dwelling in the past or living with regret. We all make mistakes and the only thing you can do is learn from them and move forward.
Life is short and you owe it to yourself to be happy and pursue the life you imagine for yourself. Don't give up hope for there are great people in this world capable of giving you love, compassion, fidelity, and trust. Sometimes things don't work out because it just wasn't the right person or the right fit. You only want to be with someone who truly wants to be with you anyway, something that feels right, safe and comforting.
Use your bad breakup as an opportunity to find something better than you may have ever imagined existed, but keep in mind these important aspects of the grieving process…
Time and Patience - Realize that this is a process

and for some a very lengthy one. Try to accept this and sit with it when necessary.

Be Kind To Yourself - Don't beat yourself up over "would've, could've, should've's." Don't feel like you've had a setback if you've had a bad day. Remember you have feelings and the depth of a loss means you experienced something truly meaningful.

Trust - There are learning and growth opportunities from these situations that will take you to better places.
The more you know yourself and learn things from life experiences, the better decisions you'll be able to make.