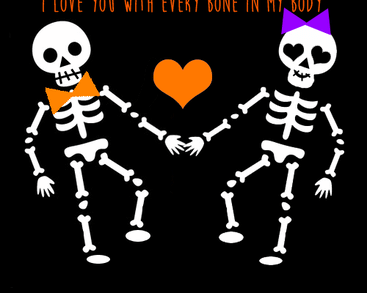 Do you think of Halloween as a romantic date night? Most of us don't. We think about running to the store to purchase tons of candy to be gobbled up by our neighborhood children running around giggling from much too much sugar and yelling, "trick or treat."
Well, this year, it can be different. So, leave bags of candy on your doorstep with a note and enjoy your couple time!
Here are some fun and romantic tips to make this Halloween all more romantic and try something new!
Let this year be an opportunity for you and your partner to begin to PLAY together again. Embrace your 10-year-old selves to laugh and play the night away. After all, a couple who plays together is taking the time to help their healthy relationship thrive!
Have A Scary Movie Marathon
Stretch out of your comfort zone and try something new. Many movies are out there to choose from, like IT or a classic horror film - The Blob.

If super scary movies aren't your thing, try a scary animated film first like Hotel Transylvania or Monster House.
It might be fun to cuddle up in blankets, with all the lights off and a fire crackling in the background. You might just find yourself clinging to one another when you are scared. Give it a try!

Compete in a Pumpkin Carving Contest Together
Have a little fun, and compete against one another in a speed game. Set a timer and see who can finish the scariest looking pumpkin in 10 minutes! The winner gets a romantic gesture of their picking..

Or, try a little competition on the same gigantic pumpkin. Each of you selects one side of the pumpkin and compete. Keep your design a secret, and don't peek! When the 10 minutes are up from the timer, share your masterpiece. The winner is the one that finishes their design within that time frame. The winner picks the prize! A foot rub or something else...
Local Haunted House with Drive Through Options
If this idea freaks you out or you can't find a local haunted house, then you can work together to create one of your very own.

Get creative and be the house on the block that all the kids are afraid to enter and score their sugary treats. Use blankets, sheets, and anything you can find to create a scary experience.

Enjoy all the giggles, screeches, and howls from the kids - as well as from one another.
Picnic at Night with Flashlights and Lanterns
Go in the backyard or a local park and bring your picnic with a blanket and flashlights or lanterns. You can enjoy the stars up above if it's a clear night too!

If it's raining, build a fort in the house and bring your picnic inside with flashlights under the blankets just like you did as kids! Enjoy where the play takes you…
Share Spooky Ghost Stories from Childhood
Build a fire, get your comfy PJ's on, and turn off all the lights. Let the imagination run wild. You'd be surprised how much fun you can have when you play together in this creative and fun way!

If you can't think of any stories from your childhood days, you can still cuddle up and listen to spooky audiobooks too.
Make a Halloween Themed Meal Together
Skip the same old meal you share every Thursday night... Make it a fun foodie adventure Halloween style and create spooky designs from foods you have in the pantry and the fridge. It might be fun to see what you come up with together.

No cheating by searching on Google for recipe ideas! Come up with your own scary or silly Halloween creations for an edible and enjoyable meal for 2!
Be Kids Again and Dress Up!
Make it a fun game and give each other 30 minutes to create a costume from anything in the house. Once the timer goes off - It's time to reveal the big costume SURPRISE!

If you want to get really creative, each of you can role play your costume characters for the rest of the evening. It might be fun!
We hope you have some fun this Halloween together and connect deeper to see just where the spooky night takes your relationship!
If you need help in your relationship, we're here. Check out our Imago Relationship Workshops and Imago Relationship Therapy. We have Online Therapy and Online Workshops now too!
Discover more about Imago with our Imago Professional Membership, Imago Professional Facilitators, Imago Professional Training, and Imago Educational Webinars.