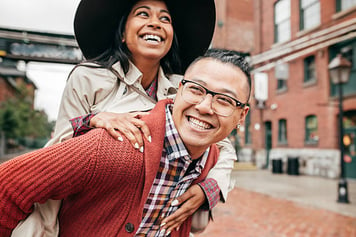 Need a little help connecting with your partner and staying connected? Here are some tips to help you each and every day!
Send at least one appreciation daily, where you ask your partner to mirror (reflect back) what it is they have heard you say…
Begin with ….
One of the many things I appreciate about you is…
And deepen that appreciation with such beginning phrases as...
When you do this I feel…

What I love most about this quality in you is...

What this teaches me about myself is…

How this touches me is...
Create a ritual of connection for bedtime that is not to be altered. (i.e. it's sacred!)
Perhaps…
Tuck your partner in, kiss them goodnight, remind them that you have their back and that you love them.

Ask them "what can I do to help you settle in for a good night's sleep?"

Consider having a cuddle and a back rub even if you sometimes sleep separately, or work shifts.

Offer to read to your partner. Many people still enjoy a bedtime story.

Send an appreciation. Keep it positive and loving so that your affection for them follows them into their dreams.
Offer a gift to your partner that speaks to their 'love language' and not your own.
For example...
"Can I run you a bath?" (bring you a tea, rub your feet)

"Will you tell me the highlights and challenges of your day?"

"Will you go for a walk with me and hold my hand?"

"I'd like to make your lunch for tomorrow (and secretly tuck a love note inside)"

What is the one thing on your list of wishes that you would like me to complete? (then do it)
Set a weekly time for a conversation, ideally a dialogue, but at the very least a time when you can sit facing one another, make eye contact, and recall the choice you made in committing to this other human being.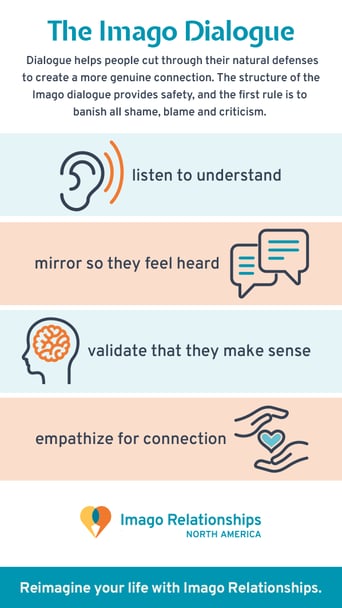 Love is a choice, and we choose to love the same partner over and over and still over again.
It is in our partnership that we have the greatest potential to feel seen and cared for.
With just a few connecting and reliable rituals, we can turn towards one another, and help heal so much of what has gone on before.
If you are struggling with connection in your relationship, we're here to help. Check out our Imago Relationship Workshops and Imago Relationships Therapy.
Discover more about Imago with our Imago Professional Membership, Imago Professional Facilitators, Imago Professional Training and Imago Educational Webinars.
Connect. Transform. Thrive.
---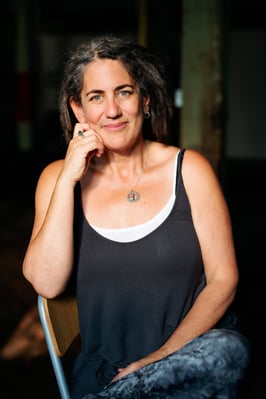 This Tips Blog was written by Anna Gold.
Anna Gold earned her Master's in Social Work in 1988 from Wilfrid Laurier University in Waterloo, Ontario. Prior to that her first degree, from York University, was in English Literature, with a love of language and stories drawing her more deeply into understanding how we make sense of our lives. The way in which we perceive and understand our own 'stories' became of critical importance to Anna in the work of personal and relational growth. Her combined passion for both clinical work and literature has greatly influenced her work as a therapist.
After her graduate studies, she continued her accreditation in the areas of Transactional Analysis, Trauma therapy, and Relationship Therapy. Anna works with the belief that it is in the depth of human connection that real understanding and healing can occur. Discovering a passion for working with couples and deeply appreciating the theory which connected her passion for inner work and relational work, Anna became a certified IMAGO therapist in (year?) and subsequently invited Tim to join her in becoming an Imago Workshop Presenter in (year?).
Additionally, Anna has enjoyed teaching clinical skills in social work, managing a university counseling services department, and working in the child welfare system in protection, adoption, and fostering. Anna also provides consulting support to small business owners as well as not for profit organizations to support the improvement of communication skills and business practices. Anna is a clinical supervisor for therapists who are committed to the understanding that increased self-awareness, personal growth, and self-reflection are critical components of clinical competency.
Anna has appeared on TV in her professional capacity as a therapist. She is also the author of articles published in various journals and online forums and blogs. You can find Anna's reflections in her newsletter and on her website at Southern Ontario Counselling Centre, as well as in her upcoming website Replenish Relationships and through Imago Relationships North America.
While Anna is passionate about travel and exploring the world, as a lifelong resident of Waterloo Region, she has devoted her practice to this region. For over three decades Anna has maintained her passion for her private practice at Southern Ontario Counselling Centre. Replenish Relationships is the home for all things related to relationship work and communications & compassion training. Check out her website too!
---