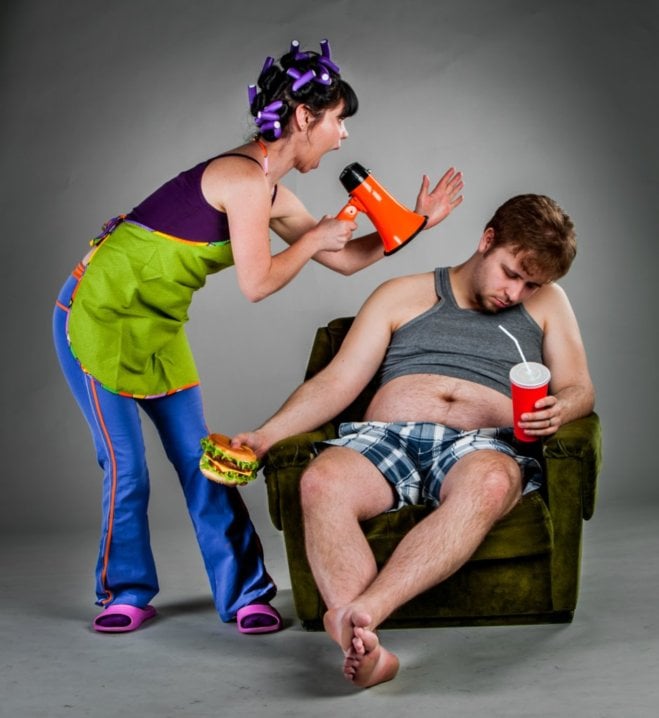 Do you and your partner have difficulties communicating? Do you have the same core fight over and over again? You know the one, it's the dreaded topic that keeps coming back and never resolves!
Does it often feel as if you are each repeatedly working to ensure the other understands your point of view and your 'way' of doing things? Perhaps it appears that your partner is neither truly listening, nor appears to care?
If this pattern feels familiar, as it does for so many of us, it may be time to explore what keeps you in connection and what pulls you out of connection. While it seems overly simple to say better communication is vital in relationships, it's true. And redefining communication as 'going beneath the surface of what is being said' can teach us how to change these dynamics in a lasting way.
It is typical that even after years of committed partnership, couples continue to enter a place of fuming tempers or angry silence. My partner and I decided to dig deeper into this pattern together. We determined to engage in dialogues with the intention of more deeply understanding our own core defense styles, recognizing that all reactivity stems from these defenses.
By 'defense' we are referring to the part of us that, as children, learned how to defend against a perceived threat. In many families, threats can be as subtle as distracted parents whose attention is not particularly attuned to their children, or it can be as obvious as criticism, neglect, or high conflict.
In order to give this dialogue its due, we chose to schedule it for a time when we were feeling peaceful and loving in our relationship. Entering dialogue when not in conflict provides a wonderful opportunity for increased insight and understanding.
At first glance, our defenses seem beyond obvious. I am what we call in Imago, a TIGER and my partner is a TURTLE. If you aren't familiar with these Imago terms, a great book to understand the Turtle and Tiger concept is Getting the Love you Want by Harville Hendrix and Helen LaKelly.
While I don't truly enjoy acting like a tiger, growling and baring my teeth. In truth, he doesn't enjoy acting like a turtle - silence and disconnect that comes from retreating into his shell. Yet these are the patterns that we learned very well early on.
In my family, when feelings were escalated there was often yelling and loud expressing feelings. While as a child, my response was to retreat to my room and listen to music or read a book, as an adult I unconsciously repeat the modeled childhood experience of becoming the 'Tiger' and growling for connection.
In my partner's family, when feelings were heightened and full of tension, people went silent and there was a mood of suppressed emotional tension without any way to reach across to another family member. Because of this, he will unconsciously slip back into this pattern.
So there we are! I find myself hoping that my partner will reach across to me, yet acting out in anger and frustration! Not an inviting way to have him help me to restore the connection. He is yearning to be understood and supported, yet finds himself withdrawing and disconnecting. Not an effective method to get me to see and understand him, nor to reach across.
Dr. Joe Dispenza, a renowned researcher on neuroscience, explains that "if emotions brand experiences into long-term memory, then we are faced with current obstacles in our life that require thinking and acting in new ways...our feelings reflect the past. But to change is to abandon past ways of thinking, acting and feeling so that we can move into the future with a new outcome. To change is to think (and act) greater than how we feel."
The good news is that we have both realized that our dynamic doesn't serve us well. And we've learned that by using the tool of 'Imago dialogue' we can transform our situation to guide us in understanding underlying issues and defenses. Ultimately, dialogue helps us to restore our connection, in part because it invites compassion into each of our childhood stories.
We have determined that proactive exploration of our childhood challenges and our relational styles brings more lasting peace and connection. We include stories that neither of us has heard and these offer a window into one another's childhood, with the result of seeing each other more clearly and with more compassion through this process.
We now plan dialogues on a regular basis. Our intent as a couple is to use Imago dialogue to deepen our understanding of one another rather than using it solely as a repair tool after a disconnect.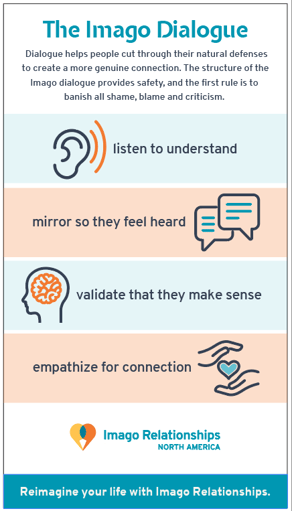 Dialogue is brave couples work, and it brings with it the amazing gift of connection - something we all long for daily!
If you're struggling with communication in your relationship and would like to discover how to use the Imago Dialogue in your relationship, we're here to help. Check out our Imago Relationship workshops and therapy.
Discover more about Imago with our Imago Professional Membership, Imago Professional Facilitators and Imago Professional Training.
Connect. Transform. Thrive.
---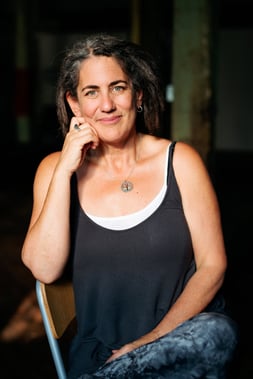 This blog post was written by Anna Gold, M.S.W., R.S.W.
Anna Gold earned her Master's in Social Work in 1988 from Wilfrid Laurier University in Waterloo, Ontario. Her first degree, from York University in Toronto, was in English Literature, with a love of language and stories drawing her more deeply into understanding how we make sense of our lives. The way in which we perceive and understand our own 'stories' became of critical importance to Anna in the work of personal and relational growth. Her combined passion for both clinical work and literature has greatly influenced her work as a therapist.
After her graduate studies, she continued her accreditation in the areas of Transactional Analysis, Trauma therapy, and Relationship Therapy. Anna works with the belief that it is in the depth of human connection that real understanding and healing can occur. Discovering a passion for working with couples and deeply appreciating the theory which connected her passion for inner work and relational work, Anna became a certified IMAGO therapist and subsequently an Imago Workshop Presenter.
As a lifelong resident of Waterloo Region, Anna has devoted her practice to this region. She has taught in the area of clinical skills in social work, has managed counseling services for the Brantford campus of Wilfrid Laurier University, and has worked in child welfare in protection, adoption, and fostering. Anna also provides consulting support to small business owners as well as not for profit organizations to support the improvement of communication skills and business practices. Anna is a clinical supervisor for therapists who are committed to the understanding that increased self-awareness, personal growth, and self-reflection are critical components of clinical competency.
For over three decades Anna has maintained her passion for her private practice at Southern Ontario Counselling Centre.
Anna has appeared on TV in her professional capacity as a therapist. She is also the author of articles published in various journals and online forums/blogs. You can find Anna's reflections in her newsletter and on her website at Southern Ontario Counselling Centre, as well as in her upcoming website Replenish Relationships and through Imago Relationships North America.
---