As an Imago therapist, I often see couples struggling in the area of connecting vs. communicating with each other. Communication can be very different from connecting with your loved ones if you are not in a conscious relationship.
This is how Connecting is different than Communicating:
I really need you to understand my experience.
I wish you would spend time with me doing things that I like to do.
What I want is to know that I am your priority.
I wish we had more good sex.
What I really want is more support with the kids.
I need you to help out with the chores more.
Sometimes I feel like you don't get me any more.
These are conversations that we can really dive into, and learning how to communicate so your partner can actively listen and validate you makes all the difference in moving toward connecting. In having a conscious relationship - learning how to connect through your communication is the key.
CMB | CTN | CUL8R
As the world becomes more wired for digital connection, human connection becomes seemingly less necessary. Text and email replace phone calls. In my experience, the millennial generation rarely even activates their voicemail since they have little intention of ever opening it or listening to the messages. FaceTime fills in for real time. The digital connection has brought the faraway nearer but at the cost of connecting.
So, what is a couple to do about building daily habits as the real foundation of a connected relationship? Nothing effectively replaces face to face connecting. As humans, we are wired to be in a relationship and that includes connecting in all forms, using all our senses. We listen and hear. We touch and are touched. We smell and are smelled. We taste and are tasted. We see and are seen.
Four Minutes a Day
A twenty-second hug activates the brain to release oxytocin, the "love hormone." Ten minutes of hand-holding reduces the stress by lowering cortisol, the "stress hormone." Long before we had the brain science to support it, Family Therapist, Virginia Satir, said:
"We need 4 hugs a day for survival.
We need 8 hugs a day for maintenance.
We need 12 hugs a day for growth."
In the span of a twenty-second hug, you can listen to your partner's heartbeat, inhale the smell of his body, taste her lips, and gaze into each other's eyes. That's a real home run HUG!
Can Hugs Change the Way We Talk
If every hug had these components, how many of the desires expressed earlier would be satisfied? Once core desires are met, what would it be like to address the more pedestrian ones? Daily irritations become an opportunity to express a desire for connecting.
How do you imagine your partner would respond if you asked for a morning hug upon waking? How would your day go from there? Would you turn toward a request for a hug? Look for obvious regular times of your day that you can intentionally seek to connect with your partner physically. Figure you are going to get eight of your daily hugs from each other. The remaining four are the icing on the cake.
Hug It Out, Baby!
While we're here, skin to skin touching ups the ante. There's a good reason nurses place a naked baby skin to skin with the mother, this is the most intimate basis of attachment. Hugging naked gets you extra points!
After spending a few weeks of intentional hugging and holding, looking and gazing, listening and hearing along with yummy smells and tastes. Then, it's all about talking. Talking to each other in ways that connect you. These are the connecting skills we all need.
If you need a little help around connecting instead of communicating with your partner, we're here to help. Check out our workshops, therapists and facilitators!
Discover more about Imago with our Imago Professional Membership, Imago Professional Facilitators, Imago Professional Training and Imago Educational Webinars.
Connect. Transform. Thrive.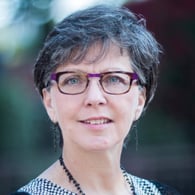 This blog post was written by Hayley Hoffman, MA, LGPC

Hayley is a psychodynamically trained clinical counselor focusing on helping couples and individuals to live relationally and to navigate life's terms. After obtaining a Master's in Clinical Counseling from Northwestern University, she became a Certified Imago Relationship Therapist. She is currently earning certification in sex therapy for couples (CSCT).
Hayley works from an empathic stance, helping clients through the process of noticing, identifying and understanding patterns of behavior that, while once useful coping mechanisms are no longer working. Together with her clients, they explore attachment meaning, past and current dynamics, and new behaviors that lead to consciously connected relationships with self and others.
Hayley's practice is rooted in "unconditional positive regard," creating a safe haven for exploring vulnerability and change, and a spiritual approach to life's ups and downs, drawing on the lessons she has learned in Imago Therapy, 12 step work, and psychodynamic clinical theory. Her client base is focused on adults, individuals, and couples. Her area of focus is couples, relational difficulties, group therapy, overcoming anxiety and depression, faith/spirituality and establishing and meeting personal goals.
Prior to her work at The Imago Center, Hayley worked in management with national and local businesses. Hayley completed a Master's degree in Clinical Counseling from Northwestern University in Evanston, IL. She has more than a decade of experience with 12 Step programs. Hayley and her husband have lived in DC off and on for the last 35 years. Between them, they have 5 adult kids.