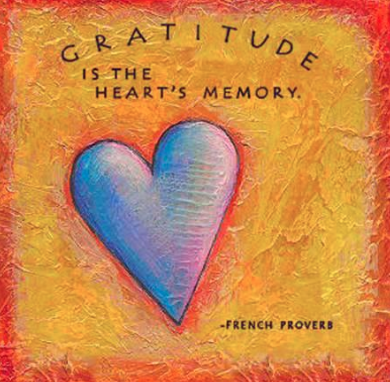 We are all experiencing difficult times these days, and gratitude is an excellent antidote to the anxiety, loss, and frustration that can feel overwhelming and endless.
Here are four tips to help you get back to feeling more grateful in your life and relationships today.
How to Practice Gratitude with 4 Tips:
Tip #1 - Start a Daily Gratitude journal or use an App on your Phone.
Make it a habit to write a few sentences of something you're grateful for during the day. Look for the simple things:
A beautiful day

A delicious meal

A phone call from a friend

A flower that bloomed

A spontaneous hug from your child
Look for things you tend to take for granted, like your spouse doing the laundry and folding your socks, your spouse working hard every day to provide for his/her family.
On challenging days, when it's hard to find anything for which to be grateful, remind yourself to be grateful for:
A roof over your head

Running water

Food to eat

You can see and walk
If you don't have time to write down the things for which to be grateful during the day, you can easily review them before you fall asleep in your comfy bed.
My partner and I pray together before we go to bed, and most of it is saying "thank you" for various small things on that day. I am convinced it adds to my general happiness and helps me on the hard days.
Tip #2 - Consciously look for positive qualities, strengths, values, and actions in your spouse.
Don't limit your gratitude to just things your spouse does for you. Seek out things to be grateful for in who your spouse is as a person. You might think of a recent way they showed their determination, compassion, or thoughtfulness toward you or someone else.
You might find it helpful to make a list of those qualities, core values, spouse something value in your spouse, and those you were attracted to initially. Then you can think about recent examples. Appreciate something about your partner's physical appearance or something about how he or she makes love.
Tip #3 - Look for things you're grateful for in your life together as a couple or a family.
What do you love and appreciate about being a couple or a family?

Is it waking up each morning and having your coffee made for you and brought to you in your office?

Is it the way your partner cares for and loves your children?

Is it the way you support each other?
There are so many ways we can find gratitude in our partner for the lives we've created together. We simply need to look.
Tip #4 -

Tell your partner that you're grateful - tell them how, why, when, and more.
It's not enough to notice things you appreciate and keep them to yourself. Tell your spouse something you are grateful for and WHY.
While saying "thanks honey" is positive, make an effort to say more about WHY you appreciate something.

How did that help you?

What did their action or words communicate to you that made you feel grateful or even touched your heart?

Why do you appreciate the way they show compassion to others or show determination?
If it feels awkward at first to sit down and tell your spouse face to face, try the following:
Send an appreciation in a text or an email.

Leave a voicemail.

Leave a little note on their pillow.

Leave a little message on their car dashboard.
Even if you are already comfortable expressing appreciation face to face, it's good to use various ways to express your gratitude.
If you have learned the Imago dialogue or safe conversations, you can use the structure for sitting face to face, heart to heart, and soul to soul to fully express an appreciation.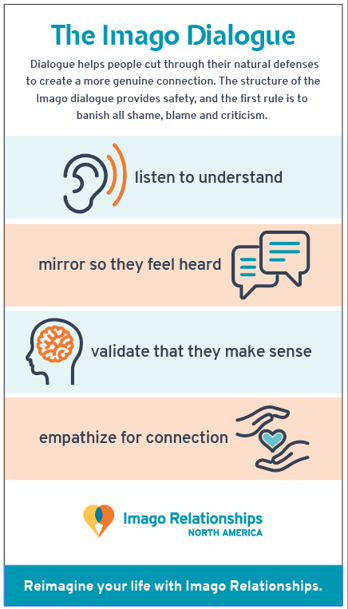 Start today.
Commit for three months to consciously cultivate an attitude of gratitude in yourself and your marriage. You'll likely find yourself happier and feeling more connected to those you love.
If you are struggling with feeling grateful in your life and your relationship, we're here to help. Check out our Imago Relationship Workshops and Relationship Therapy. We have Online Therapy and Workshops too!
Discover more about Imago with our Imago Professional Membership, Imago Professional Facilitators, Imago Professional Training and Imago Educational Webinars.
Connect. Transform. Thrive.
---
This blog post was written by Dawn Lipthrott, LCSW.
Dawn is a marriage and relationship counselor/coach, marriage workshop presenter, and a licensed psychotherapist with over 25 years experience working exclusively with couples and individuals for marriage and relationship counseling. Prior to private practice, she worked with individuals, families, and groups from a wide background. Dawn firmly believes that lives, groups, societies and the world as a whole are made up of relationship networks. Marriage or committed partnership can be one of the most satisfying and enriching — and can be one of the most painful at times.
Even the best relationships have conflict. However, sometimes the loving connection is gradually replaced by tension, disconnection, pain and loneliness. Small conflicts can spiral into hurtful arguments or shutting down and can lead to the destruction of the relationship.
But with information and tools, and a re-building of safe connection, conflict can open doors that help both people move into deeper love and advance on their road to wholeness as passionate partners, and allies. They can build or recapture that 'unshakeable sense of US' that they can rely on and feel safe in. More often than not, couples can take steps they need to build the marriage or relationship they both most want.