During times of intense stress, vulnerability, and anxiety or fear, we as humans tend to revert to old patterns of behavior. After all, we are all wired to survive, as Stan Tatkin so eloquently reminds us in his work "Wired for Love."
Each of us has a pattern of behavior that will show itself during difficult times. While we are unique individuals, nevertheless, our reactions fit within how neuroscientists understand our primitive brain to work. Our Fight-Flight-Fear response quite literally hijacks our rational self.
Life may feel like a tug of war, particularly at this time; the push and pull of needs between "you" and "me" or "us" and "them" may feel unending at present. So, what if we reframe the tug of war to a balancing act, and imagine ourselves on a teeter-totter?
We can shift our attention from the weight of who is most in need in our relationship, and those in need around us to focus on the goal of creating balance overall. When we make this shift, we can return to a place of give-and-take and stability.
The isolation many of us are experiencing has the potential to help us feel either sheltered and safe or downright claustrophobic. While there is the opportunity under these circumstances to be relational through companionship and romantic connection, struggles may develop as one or both members of the couple-ship try to get their individual needs met. Consequently, the potential for that all too familiar disconnect in our relationship to re-emerge is significant.
The good news is that the Imago dialogue is proven to shift us back into our pre-frontal cortex or 'good thinking brain' and the 'go-to' tool for creating balance in all your relationships. It also significantly decreases conflict and stress in your relationships.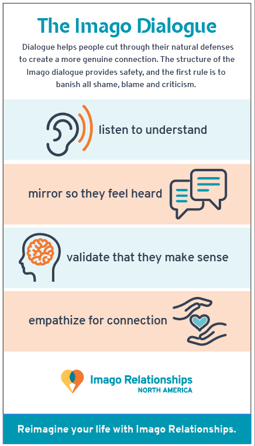 The Imago dialogue guides us on how to work through conflict in a healthy and results-oriented way. It helps us clearly see our differences in expectations and priorities, and very effective in problem-solving in our relationships.
This can be your first step to addressing the inevitable relationship conflict we all experience. It will help you to create deeper intimacy and to listen genuinely. This seems simple, right? Well, most people aren't truly listening to understand their partner. They are listening to speak next, or are preoccupied with something else.
In our relationships, we can each make a choice to do the following:
Pause

in the reactive moments

Become curious while listening
Remove judgment

when listening to take in and hear what our partner is genuinely sharing.
This simple practice is highly effective! It allows each partner to express themselves, and be mirrored by the other entirely, and creates enough emotional safety to de-escalate a struggle.
When we feel heard and seen, we can move from our defensive stance to one of empathy and connection.
The Imago dialogue helps people who feel stuck in negative patterns in their relationship to discover what's going on below the surface to understand the root causes of the problem. It is also highly effective in allowing those in loving and positive relationships to deepen their knowledge of one another, and therefore deepen their connection.
I find the greatest impact is to use a mindful approach to safeguarding your relationship with regularly scheduled dialogue sessions. It's also beneficial to incorporate regular appreciations and small loving acts of kindness. Through both these practices, you'll be far less likely to re-enter old patterns of disagreement.
This may help lessen any disconnect. However, if you do still experience it, then quickly engage in the process of dialogue and reconnect. You'll quickly notice defenses relax and move to a state of compassion, understanding, and a caring connection.
When you incorporate the regularly scheduled dialogue sessions, you'll discover a deeper insight, understanding, empathy, and connection together. It's so helpful to rapidly resolve issues and get back to the business of living your life more fully, together and in connection.
As we collectively navigate our way through these unsettled times, you may discover the Imago dialogue indispensable. Give it a try in your relationship today and see how much more effectively you are able to listen to understand, deeply connect, and share a relationship full of intentional love and care. The Imago dialogue changes the way you communicate!
If you're struggling with communication in your relationship during the COVID-19 crisis, we're here to help. Check out our Imago Relationship Therapy. We have online therapy available by many of our professionals today!
Discover more about Imago with our Imago Professional Membership, Imago Professional Facilitators, Imago Professional Training and Imago Educational Webinars.
Connect. Transform. Thrive.
---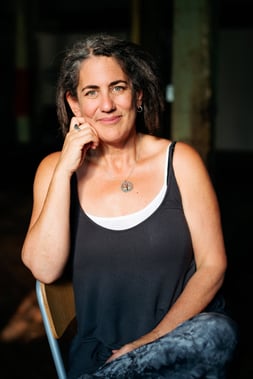 This Tips Blog was written by Anna Gold.
Anna Gold earned her Master's in Social Work in 1988 from Wilfrid Laurier University in Waterloo, Ontario. Prior to that her first degree, from York University, was in English Literature, with a love of language and stories drawing her more deeply into understanding how we make sense of our lives. The way in which we perceive and understand our own 'stories' became of critical importance to Anna in the work of personal and relational growth. Her combined passion for both clinical work and literature has greatly influenced her work as a therapist.
After her graduate studies, she continued her accreditation in the areas of Transactional Analysis, Trauma therapy, and Relationship Therapy. Anna works with the belief that it is in the depth of human connection that real understanding and healing can occur. Discovering a passion for working with couples and deeply appreciating the theory which connected her passion for inner work and relational work, Anna became a certified IMAGO therapist in (year?) and subsequently invited Tim to join her in becoming an Imago Workshop Presenter in (year?).
Additionally, Anna has enjoyed teaching clinical skills in social work, managing a university counseling services department, and working in the child welfare system in protection, adoption, and fostering. Anna also provides consulting support to small business owners as well as not for profit organizations to support the improvement of communication skills and business practices. Anna is a clinical supervisor for therapists who are committed to the understanding that increased self-awareness, personal growth, and self-reflection are critical components of clinical competency.
Anna has appeared on TV in her professional capacity as a therapist. She is also the author of articles published in various journals and online forums and blogs. You can find Anna's reflections in her newsletter and on her website at Southern Ontario Counselling Centre, as well as in her upcoming website Replenish Relationships and through Imago Relationships North America.
While Anna is passionate about travel and exploring the world, as a lifelong resident of Waterloo Region, she has devoted her practice to this region. For over three decades Anna has maintained her passion for her private practice at Southern Ontario Counselling Centre. Replenish Relationships is the home for all things related to relationship work and communications & compassion training. Check out her website too!