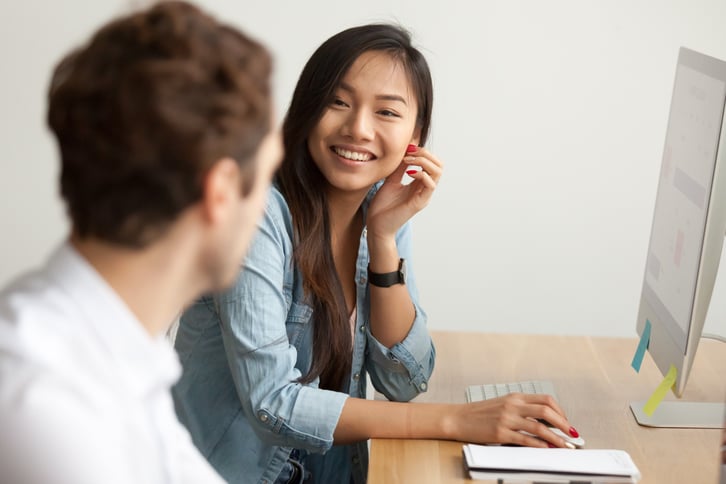 As our new normal begins to develop, many of us are concerned with re-entry into the real world. Going back into society may create feelings of anxiety and fear. As we begin to face reality, we have to go back out there and talk to people - in person!
Perhaps you've lost social skills, had a lousy home haircut, gained a few extra pandemic pounds? For many of us, introverts and extroverts, a panic may begin to set in by simply leaving the house and leaving the safety of our home cocoon.
However, there may be some of us that are freaking out for an entirely different reason when thinking about leaving our home and going back to the office. For some of us, we may be worried about connecting with our colleagues again in-person - real, human flesh up close and personal.
Or, as you've had time to reflect on the last year-plus, perhaps you are re-thinking that close relationship you developed with your co-worker? You know, the one you shared a special bond full of support, trust, honesty, loyalty, and respect that's similar to a great marriage - often referred to as a "work spouse."
If you've had a work spouse, have you ever thought about allowing (or did allow) that relationship to cross over into something more? If so, then you have likely experienced what I call "vicinity attraction." Since we typically spend so much of our waking hours at work, it makes sense we'd develop close working relationships. And sometimes sexual attraction can happen when we spend so much time with people we like, trust, and respect.
Workplace Attraction and Vicinity Attraction

Workplace attraction and vicinity attraction happens when a relationship develops due to the time you spend in proximity with that person. It may not start with a physical attraction or grow out of an emotional connection, but simply familiarity and the comfort of seeing them every day.
Workplace attractions and vicinity attractions CAN develop into emotionally and physically intimate connections, however, and that's when they turn into affairs.
How To Handle a Workplace Attraction or Vicinity Attraction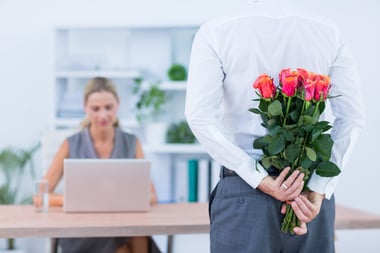 First, be honest with yourself about what's going on. Don't minimize the feelings, or try to ignore them, or even outright deny the relationship.

Acknowledge that there's an attraction and make some conscious choices about how to handle it.
People develop attractions to people other than their partners all the time. It doesn't mean you have to act on every whim or fantasy. If you're honest with yourself, you have control over whether or not you choose to be in a situation that might be unethical or harmful.
Second, decide if acting on this connection is a wise idea. Even if you're not in a relationship, are they? Would you be hurting someone else in the process?
Say you're both single. It may still not be an intelligent thing to do to get involved. Being in a romantic relationship with someone at work can create all sorts of difficulties. And, depending on your respective roles in your company, there may be a power differential (meaning one of you is the boss of the other), which could be sexual harassment, even if both of you think you're giving full consent to the interaction.
Third, if you're still considering allowing this attraction to blossom into something more, talk about it with your work spouse. See if they're even on the same page. It could be you're the only one perceiving any deeper potential here. If you find you are alone in these feelings, then deal with any lingering sense of disappointment and move on.
If The Relationship Is Mutual - Talk To Establish Boundaries

If you are both interested in pursuing more intimacy, discuss how it could impact your working relationship.
Establish boundaries
to help you manage the inevitable conflicts of interest or confusion about what's personal and business-related. Finally, talk about what could happen if you two decide to break up and how to handle that.
A workplace attraction or vicinity attraction can be fun if kept in the realm of harmless flirtation (depending on your monogamy agreement with your partner at home). Do you agree that it is okay to flirt at work or to have a friendly work-spouse relationship?
Remember that friendships can always develop into healthy, happy marriages. But the key is to be above-board and to talk about all the possible ramifications.
If you're struggling with workplace relationships, have a work spouse, work attraction, or even a vicinity attraction, we're here to help. Check out our Imago Relationship workshops and therapy. We have online therapy and workshops too!
Discover more about Imago with our Imago Professional Membership, Imago Professional Facilitators, Imago Professional Training, and Imago Educational Webinars.
Connect. Transform. Thrive.
---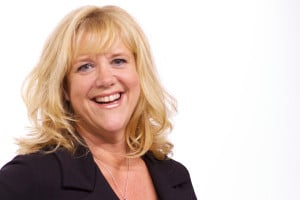 This blog post was written by Dr. Tammy Nelson, PHD, CST, CSCT, LPC, LADC .
Tammy is a sex and relationship expert, an international speaker, an author and a licensed psychotherapist with almost thirty years of experience working with individuals and couples. In private practice she focuses on helping people of all ages, orientations and genders find love, healing and passion.
Tammy is a Board Certified Sexologist, an AASECT Certified Sex Therapist, a Licensed Professional Counselor, a Certified Imago Relationship therapist, and a Licensed Alcohol and Drug Abuse Counselor. She is the author of When You're The One Who Cheats, Ten Things You Need to Know, The New Monogamy; Redefining Your Relationship After Infidelity and Getting the Sex You Want; Shed Your Inhibitions and Reach New Heights of Passion Together as well as What's Eating You: A Workbook for Teens with Anorexia, Bulimia, and other Eating Disorders.
She has many other eBooks including Six Weeks to Erotic Recovery, as well as chapters and articles on topics ranging from sexuality, desire, affair recovery, monogamy issues, open marriage, online infidelity, intentional divorce, passionate relationships and everything related to couples.
She has been a featured expert in NY Times, Wall Street Journal, Washington Post, Glamour Magazine, Cosmopolitan, RedBook, MSNBC, Men's Health, Woman's Day, and has been a source for Time Magazine. She writes for the Psychotherapy Networker, is a blogger for Huffington Post and YourTango, and can be followed on Facebook, Twitter and her blog.
---